Hisaronu Apartments | A Home Away From Home
Welcome to Turkey's Finest Holiday Apartments
About Us
Bedroom and Studio Apartments to rent
Fantastic inexpensive self-catering holiday rentals available from April through October in the stunningly delightful Turkish villages of Hisaronu and Ovacik. Try our beautiful Hisaronu Apartments and charming Ovacik Apartment!
Truly a home away from home!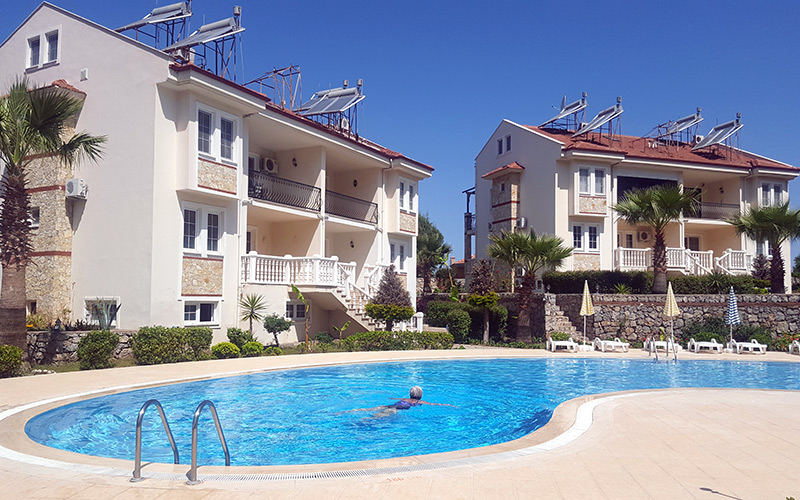 Hillcrest II Apartments
Hisaronu Apartments consist of six buildings, each with four privately owned apartments.
Fantastic inexpensive Hisaronu Apartments (self catering holiday rentals) available from April thru October.
This exclusive development is situated a two minute walk from the centre of Hisaronu and only five minutes Dolmus ride from the famous blue lagoon of Oludeniz, the apartments available for rent offer stunning views of Ovacik and surrounding mountains.
Hillcrest II is a truly spectacular location and is regarded as one of the most tranquil complexes within close proximity to all bars, clubs, restaurants, shops etc; yet far enough to ensure there is no noise.
The small complex comprises of six buildings, each with four privately owned apartments, all arranged around a large swimming pool & children's splash pool, surrounded with well kept and privately maintained gardens.
There is a two bedroom apartment and a self contained studio apartment within the complex and can be rented individually or together for extended families and friends.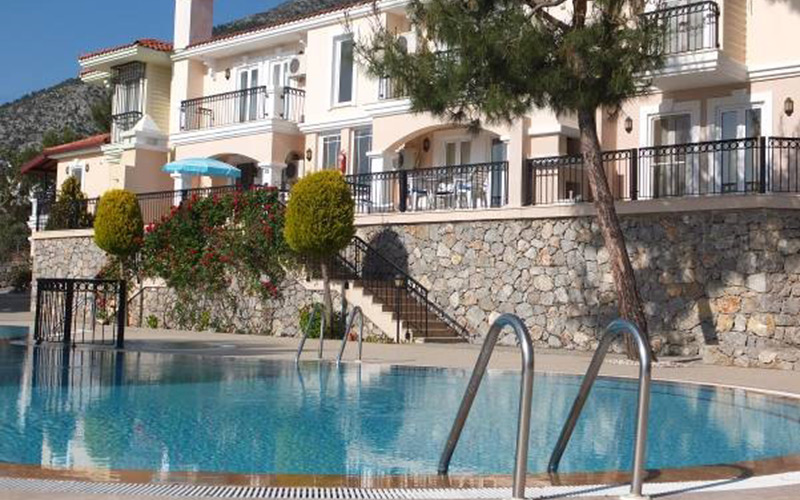 Artemisia

Apartment

The Artemisia Residence II Apartment is located in the pretty hillside village of Ovacik, which is surrounded by lush pine forest and mountains with spectacular views of the valley to the sea at Oludeniz..

This top quality ground floor Ovacik Apartment in a carefully planned development is located in a beautiful setting. 

The complex is within a quiet gated community in a very relaxing environment, with its unique architectural design and spectacular views of the mountains surrounding areas and stunning sunsets.

This apartment is five minutes walk from the local shops of Ovacik which is a quiet resort with pubs and restaurants, a great resort for relaxing and un-winding, a 5 minute dolmus ride or a 30 minute stroll will take to the centre of Hisaronu which is a small vibrant town with plenty of pubs and restaurants to suit all tastes and 10 minutes dolmus ride from the famous beaches of the Blue Lagoon of Oludeniz.

Fethiye again a 15 minute Dolmus ride has a wonderful harbour and marina which are great places day and night with its bustling town centre full of shops, restaurants and bars and a market on a Tuesday which offers a great Turkish experience and to test your bartering skills.

Tourism And Travel Guide To Turkey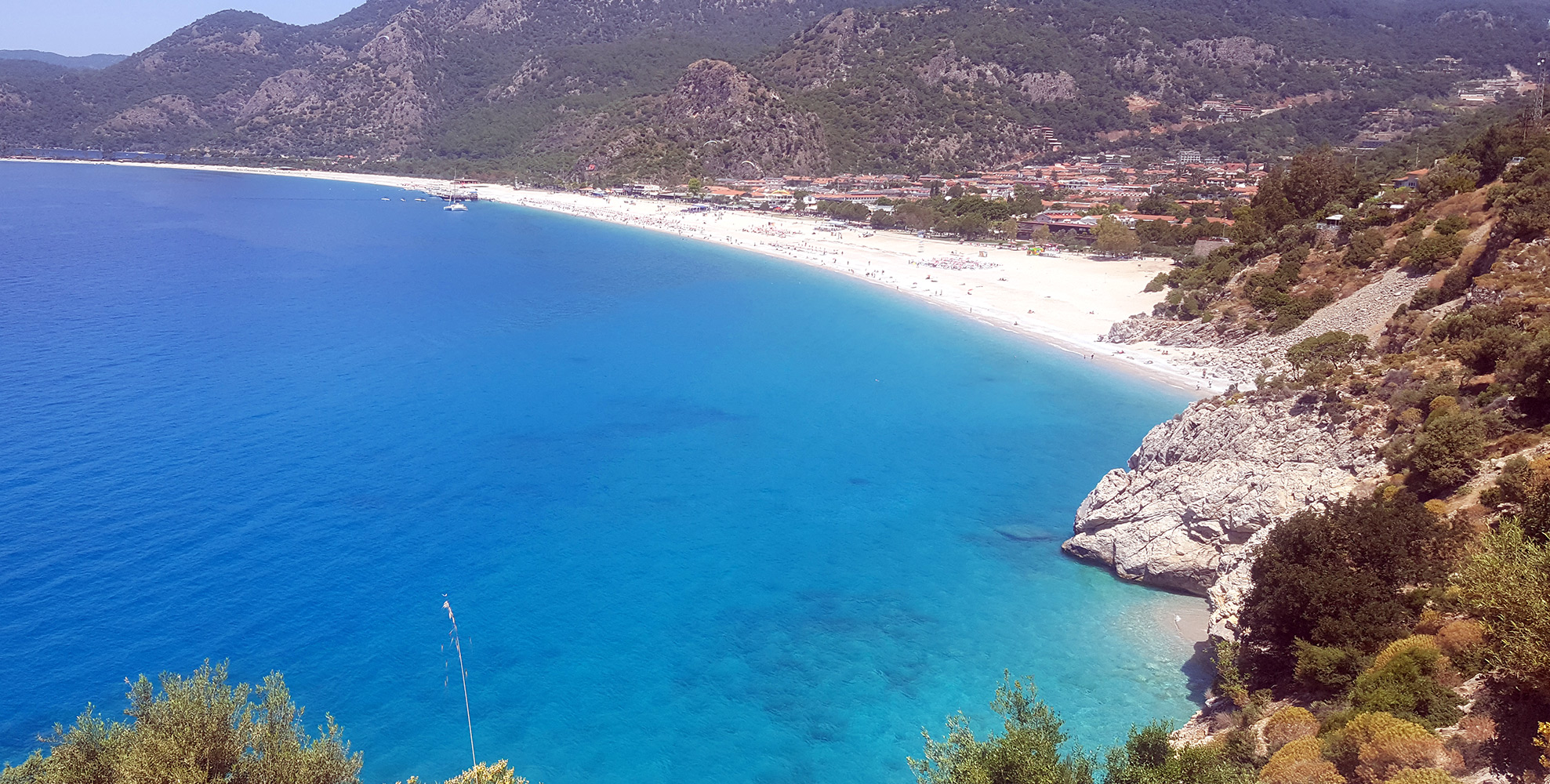 Another fabulous stay in Stella and John's studio. Great location – would highly recommend this accommodation. ideal for the bars shops and restaurants. We will definitely will be booking again.
Joyce and Dave
27th April 2019
My husband and I just had the best 15 nights staying in the studio apartment. The studio contained everything we needed and more. We were lucky enough to meet owners Stella and John who also showed us around they're 2 bedroom apartment down stairs . The pool area was extremely quiet which was great to… Read more "My husband and I just"
Lynn Regan
14th October 2022
Fantastic holiday. Beautiful apartment – very clean with all facilities that are required. Pool delightful. Owners Stella and John were extremely helpful – the restaurants and walks in the book in the apartment were very helpful. Will definitely go back.
Sue and John Warner
10th August 2017
Just stayed here for 2 weeks – home from home. Roomy, spotless, well furnished with excellent views over the pool and mountains. Owners Stella and John are very friendly and helpful – would definitely recommend staying here once again. Thanks Stella and John!
Mark & Sylvia Nicholson
19th February 2019
Stayed in your apartment in July and loved it!! Would recommend it to everyone. Thank you x
Dot & Brian
24th June 2017
Visited Turkey every year for the past 5 years and this year, in particular, has got to have been one of the best. Not only because of how friendly the locals and the holiday makers are in the village but because of our fantastic stay at Hillcrest. Renting the apartment from Stella was a great… Read more "Fantastic stay at Hillcrest"
Junior and Victoria
13th September 2018
My 2nd year in this accommodation, would definitely recommend. immaculate stunning place to stay in a beautiful area. Stella and John are a pleasure to deal with. Many thanks!
Sally Hunter
12th March 2019
Just back from a fantastic 17 night holiday, stayed in both the studio and two bed apartment. Have stayed in a few different places in Hisaronu but this is by far the best. There is everything you could possibly need in both apartments, beautifully furnished, perfect location & lovely peaceful pool area. Many thanks Stella… Read more "Beautifully furnished"
Angie
2nd October 2017
Loved our holiday fantastic apartment – great location – would recommend this to everyone – thank you both.
Bev Parker
16th December 2017
Had a wonderful holiday last year so pleased we are going again this year… Can't wait!
Andy and Sue
4th February 2019
Been to stay in apartment and studio several times and love it!!! Would recommend to every person visiting this part of Turkey to stay here.
Pam & Stew
21st May 2019
Stayed here for 3 weeks. I stayed in the studio and it was perfect! I would recommend it to anyone.
Rebecca
6th July 2016
First time in Turkey and me and my partner stayed in the studio, was the best studio I have been in so far. On arriving at our studio we were so pleased – absolutely stunning. Excellent choice and was very clean. Recommendation? Do stay here 5*. Also the studio location was perfect, just a 2… Read more "Blue Lagoon Beach"
Chantelle Gordon
28th April 2017
Just booked to go to your apartment later in the year. Can't wait, but thank you so much for being so helpful and efficient with the booking.
Mike and Maureen
9th February 2016
Had a fabulous time here; the studio is amazing and the fittings and fixtures are top class! Everything you could need is there and arriving to all the essentials creates a special touch. Fabulous pool and ideal location! Will be back and thank you for a lovely holiday in first class accommodation !
Belinda Ealand
1st January 2019
These apartments are a great base for visiting Hisaronu & surrounding area. First time here and the the night life was bang on – will be back next year.
Stevie A
16th July 2018
2nd time we have been to your apartments and love it. Would recommend to anyone, also lovely area and so close to everything.
Leanne
9th February 2019
Wonderful holiday in a wonderful villa. Everything you could wish for. Perfect location for all restaurants bars, and excellent pool and grounds. Would recommend this beautiful villa and we will certainly be holidaying there again.
Joyce Beattie
17th March 2018
First time for us in Turkey. We stayed in your beautiful studio and absolutely loved it. Lovely resort, lovely studio, great complex. A wonderful holiday – thank you Stella & John.
Sandra and Paul
30th May 2018
Wow !! Excellent, first class accommodation. Thank you Stella & John for letting us stay in yr apartment, we loved everything about it . Thoroughly recommend this accommodation, & to Stella & John who were a pleasure to deal with
Sandra Brown
14th October 2022
As first time visitors to Turkey, we were a little apprehensive, but upon arriving, we had absolutely NO reason to be. The 2 bed apartment is truly fabulous and Stella & John have extremely high standards and were a pleasure to deal with. The apartment was spotless and very modern, and has everything you need.… Read more "First time visitors to Turkey"
Sean H
15th September 2018
Fantastic holiday, thank you very much – we will definitely be back – see you soon!!!
Ian & Mary
16th October 2016
What you Get
Amenities and Services
Home From Home Facilities
Visit Turkey in Style
Check for Vacancies!
Start your Turkish adventure today in our magical Hisaronu Apartments and Ovacik Apartment by getting in touch with Stella and John - you'll be guaranteed of a friendly response!
Stella & John : 07855 228305 (24hrs) / 07944 527759
info@hisaronuapartments.com
Prices from £185.00 per week
We collect information from you when you register on our site or fill out a form when you request information about our services. When visiting our site, as appropriate, you may be asked to enter your name, e-mail address or phone number. You may, however, visit our site anonymously.
We do NOT sell, trade, or otherwise transfer to outside parties your personally identifiable information. This does not include trusted third parties who assist us in operating our website, conducting our business, or servicing you, so long as those parties agree to keep this information confidential. We may also release your information when we believe release is appropriate to comply with the law, enforce our site policies, or protect ours or others rights, property, or safety. However, non-personally identifiable visitor information may be provided to other parties for marketing, advertising, or other uses.